Posted June 17 2010
last edit July 14
This post will gather the evidence of Gwendoline "Decky" Horton regarding her find of a piece of paper, alleged to have been evidence PK/689 (below, compared to a control sample, PT/1). This was alleged to be the cover off the
manual for the bomb radio
, which had obviously been near a powerful Semtex explosion, since it's - ripped up a bit. The clearly readable model name identified the model used for the bomb (??) as one sold primarily to a Libyan company.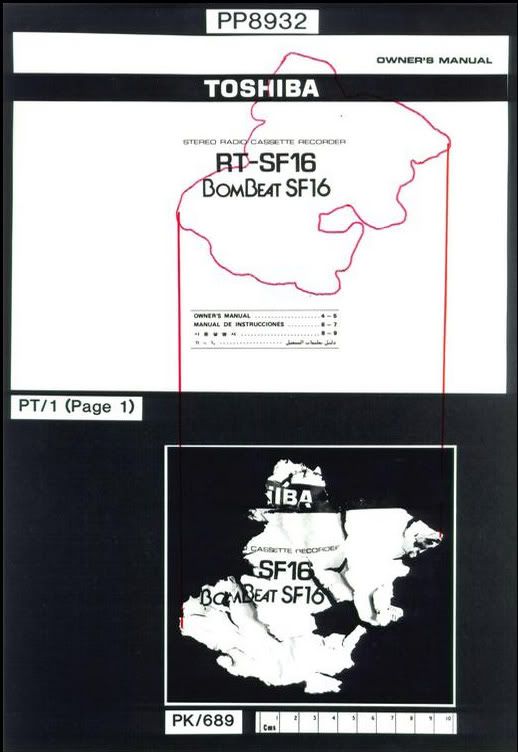 Mrs. Horton and her husband Robert Geoffrey Horton (or Jeff) had been credited as turning the miracle find in to police in Late December, from their farm near the North Sea. The main controversy about this surfaced at trial in 2000 where Decky but not Jeff testified.
Trial testimony
Camp Zeist, day 6 May 10 2000
Witness number 334, Gwendoline Horton
Transcripts pp 962-966
In her remarkably brief questioning, she re-told of finding "what we thought was just debris, possibly from a passing car or something," on the morning after the crash. Soon they heard there was debris everywhere, and a neighbor told them "she understood it was from the plane that had crashed, and that all the local farmers were collecting it in the fields." So Jeff and Decky headed out to gather what they could in case it had any value. From there her testimony runs:
Q And did you hand material in to the police on that day?
A I can't remember if it was that day or the following day.
Q How many times did you hand material in to the police?
A Twice.
Q And how did you carry this stuff once you'd gathered it?
A Just in a carrier bag, I think, at the time.
Q I would like to ask you about one item in particular. Do you remember coming upon a document of some sort that made reference to a radio cassette player?
A Yes, I do.
Q Can you describe what that item was like?
A Well, from what I remember, it was possibly about -- I know I'm supposed to say it. * About that kind of size, you know, about possibly eight by eight, or something like that, inches.
* This apparently refers to the usual instruction to speak out sizes, directions, etc. rather than gesturing.
Q Could you see writing on it?
A I could see writing, because I remarked to my husband, "This appears to be from a cassette player," or something like that. I do remember it was something electrical.
Q And did you hand that item in to the police?
A Yes, that went into the bag as well.

Q Right. I wonder if you would look, please, at Label 24. You'll see there is a bag which contains items there. Do you recognise anything?
A Well, not in its present state. I'm sure when I handed it in, it was in one piece.
Q Yes.
A Yes.

Q Perhaps -- I wonder if it could be put on the document imager, to see if we can see it. You can see within the police plastic bag, I think as you've described, more than one piece of a document.
And you can at least see writing on it?
A Yes.
Q Do I understand you to say that when you handed it in, it was in one piece?
A It was in one piece, sir. I am practically sure of that, yes.
Q But apart from that, you recognise the item?
A Yes. Uh-huh.

Q Whereabouts did you find that item?
A In the fields -- we are a private house on the roadside. In the field opposite, they are known as the glebe fields, and it was in the bottom glebe field, down beside the burn, down in the bottom. In the dean.
Q Thank you very much.
[...]
LORD SUTHERLAND: Thank you, Mrs. Horton. You are free to go. Thank you for coming.
THE WITNESS: Thank you.
2008 Media interest
Following the 2007 SCCRC findings that Megrahi deserved a second appeal, and coming on the 20 year anniversary of the attack, 2008 brought attention to the whole case including the Hortons. The trial controversy had the crew of BBC Conspiracy Files visit the farm and get Decky's story on camera.
BBC Conspiracy Files, 2008:
http://lockerbiedivide.blogspot.com/2010/01/video-conspiracy-files-lockerbie.html
(Starting around 37:30)
"I was taken into court by the usher, and I had to swear the oath. And then I was shown a plastic bag with this ... piece ... of paper in it. But at the time I was asked is this what I had found. And I said well when I found it, it was in one piece. But in the bag there were several pieces, and the name Toshiba was only just discernable by then."
[...]
"When I found the piece of paper it was more or less intact - a bit tatty around the edges but it definitely had Toshiba written across And it was in one piece, where this is in several pieces."
Narrator: "The police say the evidence had become degraded because it had undergone hundreds of forensic tests."
> Contemporaneous article, The Sunday Sun (UK)
Geoff and Decky Horton found a key piece of evidence after wreckage was strewn over their farm, located 60 miles from the crash site. But the piece of paper — believed to be from the package which contained the bomb that blew up Pan Am Flight 103 — was damaged after it was handed over to investigators.
[...]
Police said the paper was damaged following a battery of forensic tests.
But the documentary says: "Why was the piece of paper so altered from when the Hortons found it? Was it proof of a conspiracy or careless handling by the police? The mystery remains."
Conspiracy theorists believe key evidence was tampered with to implicate Libya in the bomb plot.
http://www.sundaysun.co.uk/news/north-east-news/2008/08/31/lockerbie-evidence-called-into-question-79310-21640187/
...
Analysis:
Mrs. Horton didn't independently recall any specific wording, including Toshiba, at trial. All she said before being shown the item was "I remarked to my husband, "This appears to be from a cassette player," or something like that. I do remember it was something electrical." In 2008 she claims to have remembered it saying "Toshiba" in its entirety. This could be a false memory. Nonetheless, I suspect it did say Toshiba. The reason being, this fragment appears to be a plant, one designed to exploit an actual memory.If the fragment had said something else, like Panasonic, she might remember that and cry foul when it later said Toshiba. That would be risky. I doubt she would or should recall the tedious model number, be it RT-SF16 or otherwise. The "BomBeat" or lack it might stand out, but it doesn't seem to have.
I also challenge Mrs.Horton's "several pieces" categorization. It can appear that way, but it's described in eaminations, and is, a single sheet of paper,
nearly
torn through in spots. THE BBC's coverage of this tricked me at first - the question is whether investigators tore up the paper Decky found on purpose. The real question is whether this was the piece she found at all. If so, it was nowhere near the bomb, and then what a coincidence it's for this model,
sold primarily in Libya
.
Again, it was allegedly torn through from being inches from an explosion that ruptured a plane's hull at over two feet. Or rather, if one trusts both RARDE
and
Mrs. Horton, one needs to accept that the manual cover (and no other page) was made "a bit tatty around the edges" by that blast, and torn to
nearly
to shreds by later forensic testing.
These tests were discussed at the Zeist trial. PK/689 was listed as
first
received at RARDE on both May 11 and June 30 1989. [
link
] Dr. Hayes' notes said (paraphrased) "this item was received at RARDE on 11/5/89, and then passed to a DC Jordan on the same date for
non-destructive fingerprints
, and then returned to RARDE on 16th May, passed to DC Jordan on 16th May for chemical treatment after photography." Jordan, by Hayes' recollection, was with either the Metropolitan police or Scotland Yard. [Zeist trial, day 18]
That's all I can find, and no mention of explosives residue testing. It hardly seems worth the hassle, of course, being so clear on the face of it. In fact, I'm half surprised they didn't claim Megrahi's prints from this find.
...