March 17
last edits March 26
It's a bit of a side note for this forum, but relevant enough to at least note a fast-moving
discussion at the JREF forum
on the April 1984 shooting of police constable Yvonne Fletcher (
Wikipedia page
,
news clip with video of the shooting
). This was of course blamed on the Libyans, who were trying to shoot protesters outside their embassy in London, in broad daylight, with police present and cameras rolling. The firing injured I believe 11 protesters, and apparently on accident completely skewered Yvonne Fletcher, the only female constable present, killing her. Bad mistake.
It was a major crisis, souring UK-Libya relations in public opinion and on the politcal/military level. The post-Fletcher hardened stance allowed, for example, the US bombing of Libya two years later to be carried out from UK territory. Bad mistake.
We know they did it because they transmitted the order from Tripoli to do it, they left all their ammo behind, and residue of firing by the second floor window. Bad mistake.
And we were told this line of fire was compatible with the injuries sustained by WPC Fletcher. But that's less than clear, to say the least. Some existing conspiracy theories (by Joe Vialls and others) are being hashed over, with plenty of error and inconsistency coming up. But there may well be something interesting to come of out original analysis anyways. This post will be updated to distill the findings, when there are some real findings. In the meantime, it's worth a read or at least a skim.
The link again.
Update
March 26, major development: one of the embassy staff suspected in this killing, but never caught because no one would break a law about searching bags,
has been captured
in the bloodbath of Benghazi just now! (more forthcoming)
---
Finding one:
A cornerstone of the prevailing conspiracy theory, promoted by Joe Vialls and a 1996 documentary for BBC Dispatches, is the angle of fire evident in ms. Fletcher's post-mortem report. This was steep, running from right shoulder to left abdomen, taken down as 60 degrees from horizontal. The Libyan People's Bureau (LPB) second-floor window (first floor in UK speak) is only about 18' off the ground, giving a line of fire to Ms. Fletcher of about 15 degrees. Revisionists so far have asserted the 60-degree-line points right up to another, taller building (Enserch House, EH), that housed a secret CIA station.
I don't believe the shot that killed her did come from the LPB, but contrary to what everyone else has said so far, the implied line of fire doesn't support it. I used video and Google maps to set her location and measure the distances involved - she was at the northeast corner - about 60 feet to the nearest window of the LPB and about 90 from the same at EH.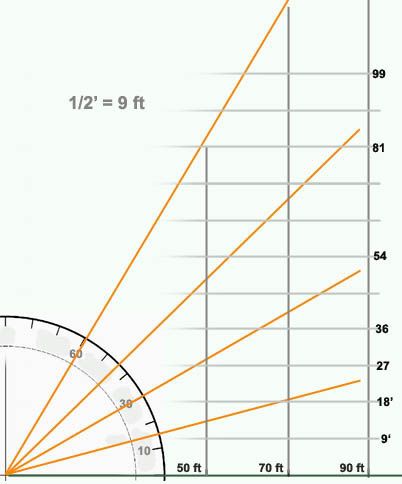 the height of the buildings is roughly the same - about 50 feet for the LPB and 60 for Enserch. Being further away however makes it actuall a worse fit for vertical angle, IF we were talking top floors or rooftops. But taking the official shooting level, upper Enserch House remains a better fit, at about 30 degrees. Either way, we must be seeing the effect of bullet deflection off bone, and/or an unusual posture at moment of impact.
Finding 2:
forthcoming.
Finding 3:
Following the shooting on April 17, the embassy staff at the LPB was besieged inside and only allowed to leave nine days later on the 26th. It was only four days after that, following a SAS sweep of the place for booby-traps, nearly two weeks after that guess-based siege, that police found
any
direct evidence the shooting came from inside.
On 30 April, the police entered the former bureau building. In the course of searching it, they discovered several handguns and a quantity of ammunition. Firearms residue was found on the carpet below the window from which the weapon was believed to have been fired on 17 April and a spent cartridge case of the same calibre as that weapon was found in the same room. Elsewhere in the building, the police found accessories for sub-machine guns of the same calibre.
http://hansard.millbanksystems.com/commons/1996/may/08/wpc-yvonne-fletcher
But the murder weapon itself was allowed to leave the country in a diplomatic pouch. Because to search it would violate a law. (???) But they had nine days to clean the carpet and walls for any clues their stupid, stupid, stupid alleged crime left. Nine days and no one thought about it.
This just doesn't add up. Angles aside, this looks a wee bit like a frame-up.