The MEBO Files, part 2
July 4 2010


last updates/edits July 10
In the early 1990s, long before he came out of the closet as a Libya-Megrahi supporter with reams of accusations against Scots-American investigators, Swiss merchant Edwin Bollier sneakily told these same authorities that he
actually believed
the Libyans were behind the bombing. Now, he had said just that in early 1989 with his
semi-famous "catch-letter,"
but that was only because a shadowy CIA man had told him to do it.
But his continuing charade, as he explains his helpful phase, went beyond the terms behind that note and raises questions. For example, was it the same agent's nefarious demands each time he spoke up, or was there a whole team steering the poor man towards implicating Libya? Or was he, as the rest of this article presumes, more self-motivated than all that?
In a January 14 1991 interview with the FBI and Swiss authorities, Bollier said he had written that letter two years earlier to get the investigators "away from the wrong track and to
bring them onto the Libyan track."
It goes beyond giving the mystery man what he demanded; Bollier says (up to 2000 anyway) that on Jan 5
he himself
felt that Libya was the right track to investigate.
Something Was Going On
It was a gut-feeling Swiss suspicion, or "Swisspicion" as it will now be called, that prompted a phone call to his acquaintance
Abdelbaset al Megrahi
, somewhere around Christmas (see below). He was driven partly by an odd "impression that something was going on," he recalled at trial a decade later, and cited two powerful clues while apparently meaning to cite only one. "[W]hen this mystery man came along -- or when I found that the timer had been programmed, we ourselves," meaning he and Mebo co-founder Erwin Meister, "believed that the Libyans were involved."
The reason he
started
giving was the mystery man and his alleged visit on the morning of December 30, which was of course
after
the call in question. The man, who perhaps didn't exist, had started by telling Edwin that he'd been selling timers to Tripoli for years, and had just been there to sell more right as Lockerbie happened. Chilled to the bone to realize the CIA was monitoring arms sales to Libya, Bollier was then told, as he recalled at trial, "and I can tell you that the Libyans are connected with this attack." All he needed Edwin to do was write a fabricated letter to the CIA telling them what they were already sure of. And this he finds convincing?
No, he had cut himself off, remembering it was the timer re-set, not the CIA man's statement, that had sparked up his swisspicion. This requires some explaining.
The Olympic Clue
Around December 1, Bollier says (unconfirmed as far as I know) the Libyans told Mebo they wanted 40 more MST-13 units like the ones thay had bought 20 of in 1985. He didn't have any handy and couldn't make any more soon enough, so he bought 40 Olympus timers (sometimes translated as "watches" during the trial) on the open market. As he was getting this story on record with the FBI in January '91, Bollier said "prior to my departure, I did a final check on all timers and reset them to zero."
As he flew out December 18, Bollier brought these fully blank timers in his carry-on luggage (his checked luggage being
its own story
). He tried to sell them to the Libyans, marked up too much. They wanted MST-13s, these were too expensive, they would keep them anyway, and
Abdelbaset al Megrahi
would hand over the money, he was told (this allegation will also be addressed separately). He left the timers with alleged Libyan bigwig Ezzadin Hinshiri the 19th, but then had Megrahi flake out on the money meeting. Not having been paid, Bollier says he collected the timer/watches back from Hinshiri in the morning, and wound up bringing back home in failure on December 20, the day before Lockerbie.
Within a few days after this trip, Bollier told investigators, he had looked at one of these fully blank units handled by Hinshiri and found its screen showed a peculiar setting: "Wednesday," being December 21, and a time - 7:30 pm - exactly 27 minutes after the detonation on board PA103. This could only come from Hinshiri's hands, connected to his brain, and his brain to the bombing plot, Bollier apparently deduced.
At trial in June 2000 (Day 26) Edwin still swore by this find; "That is true. Yes. That the timer was programmed; that is true." He says he removed the battery and
told
his partner, Mr. Meister about the unusual setting but
did not
show it to him. Meister, however, had already recalled at trial (Day 22) Bollier actually showing him the timer with its setting, which he agreed said Wednesday and 7:30. As the Zeist judges summarized in their Opinion of the Court, paragraph [46]:
We do not accept the evidence of either of these two witnesses about this alleged discovery. It was established, and Mr Meister was forced to accept, that the Olympus timer was incapable of showing a date. Moreover, the evidence of both witnesses about what they claimed to have seen and the circumstances in which they claimed to have made the discovery was so inconsistent that we are wholly unable to accept any of it.
---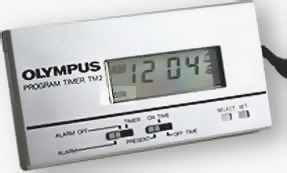 Update July 7:
Bollier alerts me the Zeist judges were wrong to dismiss this clue. He sent me a low resolution picture (inset, cleaned up a bit) of the model in question, TM2. There is no
date
display as in 21/12, but that not what He and Meister said. It was the day name Wednesday. Bollier cites: "LC Display Window ; Display selector switsch; Mode selector; Select button; Set button; Hours>>Minutes (: Seconds); ON Time, Off Time; AM > PM; At the bottom left hand corner >
Day of the week
= ( SUN > MON > TUE >
WED
>THU >FRI > SAT" Indeed. The one shown seems to say "SUN" (highlighted). So, Bollier stands by his claim of what he saw, that someone other than him entered this day/time - and not necessarily a Libyan (see comments below)
---
This was therefore not accepted as evidence against the Libyan Hinshiri, but it wasn't for a lack of trying on Mebo's part. Now if they had accepted it as consistent, it might seem a fair reason for Bollier to suspect Libyan involvement, ring them up suspiciously, and then compliantly write a letter on his imaginary friend's advice. (The judges do also dismiss the "mystery man" as fiction of the "spy thriller" sort). Just what that clue would mean, if accepted, is a little less promising. All I can see in it is one of four possibilities:
A) It was coincidence based on the visit's timing; Hinshiri wanted to see if it could be set for, say, two days from now – which just happened to be the day that PA103 blew up. (the time mismatch would support this)
B) Hinshiri, a PA103 plotter, was practicing to see if this Olympus timer/watch would work for the bombing two days away, but then let it go as too expensive for the destruction of an American airliner. And just forgot to re-set it to zero.
C) Less directly, he was just typing the bombing time into unrelated electronics at random to make sure he has it memorized (he didn't - 27 minutes off), or something to that effect. And again, he just forgets to re-set it to zero before he hands it back, knowing the bombing will shock the world two days later.
D) As Bollier now says (see comments below) "someone else" aside from a Libyan, might have put that data there for him to see.
I'm unsure if he was trying to imply option B) or C) above, but Bollier would apparently have the Judges believe that Hinshiri had just handed him a major clue to sell to the Americans. I rather prefer the version where he counterfeited this bill of exchange from thin air.
Something Had Happened
Set ablaze by his timer discovery, Bollier says, he placed unusual phone calls (unverified) to both Ezzadin Hinshiri and the man he knew as Abdelbaset, perhaps one week after the Lockerbie bombing. He emphasizes at trial that he was calling to complain about not being paid – for the timers he had brought back with him. But he had complex reasons for these calls, he told Swiss authorities, including:
"I had a feeling that there was a connection between Libya and the crash of Pan Am 103. I wanted to hear them. Experience has shown me that people can no longer be reached when something has happened. This was certainly the case after the American air strike on Libya."
Or, conversely, after a hypothetical Libyan air strike against America. He couldn't recall the exact date, but it was "between the 21st -- or between Christmas and New Year," but prior to the mystery man, so December 29 at the latest. On the call to Megrahi, he said "I telephoned, and he wasn't there. Somebody took the telephone off the hook. But I cannot confirm 100 percent whether it was Mr. Abdelbaset's voice. Anyway, I was told that he was not there." Well, if people can't be reached after something has happened, it would seem that something had happened - some unknown event involving timers and December 21 and, apparently, both Hinshiri and Megrahi.
---