"The Biggest Lie" They Could Find
8 November 2010
last edits 14 Nov
It's no longer a secret that "Lockerbie bomber" Abdelbaset Ali al Megrahi was on the island nation of Malta on 20 and 21 December, 1988. But his passing through Luqa airport there on the morning of the bombing of Pan Am 103
was
a secret at the time, since he was traveling under a false identity created by the Libyan government - Ahmed Khlaifa Abdusamad. (see passport below).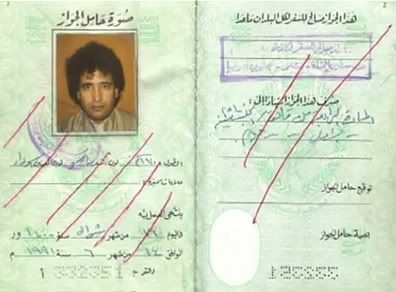 We can thus presume that Megrahi was on a secret mission of some sort, on behalf of Tripoli, and likely something illegal. No one can be certain just what his mission was, and there's been to this day no satisfactory explanation from the Libyan side.
It's not sure just who first learned that Abdusamad and Megrahi were the same person, nor when this happened. But if it was found out early enough, and by the CIA, it could well have been
the deciding factor to drag the Libyan into the spotlight of suspicion
, his hated nation training behind.
In their 2001
Opinion of the Court
accompanying Megrahi's conviction, the Zeist judges explain the false identity's origin and early use:
On 15 June 1987 the first accused was issued with a passport with an expiry date of 14 June 1991 by the Libyan passport authority at the request of the ESO who supplied the details to be included. The name on the passport was Ahmed Khalifa Abdusamad. Such a passport was known as a coded passport. There was no evidence as to why this passport was issued to him. It was used by the first accused on a visit to Nigeria in August 1987, returning to Tripoli via Zurich and Malta, travelling at least between Zurich and Tripoli on the same flights as Nassr Ashur who was also travelling on a coded passport. It was also used during 1987 for visits to Ethiopia, Saudi Arabia and Cyprus. [paragraph 87]
The earlier
indictments
of Megrahi and Fhimah, issued November 1991, gave different uses of the identity. On 22 August, 1987, "Abdusamad" flew from Zurich to Malta, stayed at the Holiday Inn there, and returned to Tripoli the next day. This trip was made "along with the said Nassr Ashur, who was then using a passport in the false name and using the false identity of Nassr Ahmed Salem." [points (e) (m)]
And then after a long break, he went out as Abdusamad only once in 1988 - on 20 December, when he flew with Fhimah from Tripoli to Malta, and again the next morning for the return trip, this time with Mohammed Abouagela Masud. [point (p)] The Zesit judges agreed that "the only use of this passport in 1988 was for an overnight visit to Malta on 20/21 December, and it was never used again." [para 87]
A supposedly key piece of evidence for Megrahi's guilt occurred only some days after the 14 November public announcement of the indictments. In a November 1991 interview with Pierre Salinger (I can't pin down the date), Megrahi denied being Abdusamad or being on Malta the day of the bombing. This was presented, for one, in the recent STV documentary
Lockerbie Bomber: Sent Home To Die
[23:18]
"You accuse me falsely. ... On 20 December and 21, at that time I wasn't there. Believe me, I was here in Tripoli with my family."
The editors had FBI lead investigator Richard Marquise follow the clip by saying "I realize that being a liar doesn't make you a terrorist murderer. But I think, again, it adds credibility to all the other factors that we led up to at that point." And Marquise is quick to offer up this lie, as one of his two or three points, nearly every chance he gets. This repeat play is itself a sign that he knows "all the other factors" need all the help they can get. At least once, he's called this "the biggest lie" the Libyan had told.
Megrahi denied being a member of the Libyan Intelligence Service; he did not know Abdusamad; and he did not know MEBO. All were proven at trial to be lies. However, his biggest lie was his claim that on December 20-21 he had not been in Malta: "I was here in Tripoli with my family believe me." Why should anyone believe any of his claims today after his lies in 1991? [

source

]
This early repudiation has been a verbal rope used by Marquise and many others, time and again over the years, to tie Megrahi to the bombing. In retrospect, he should probably have come clean as much as possible, but bare days after the shocking announcement, and revelation of his secret presence, that didn't happen. It seems cover-up won, at least for a moment. Perhaps it was reflexive on Megrahi's part, not grasping the reality of the charges against him, or a firm order from callous superiors despite Megrahi's own pleas. Either way, it was an unfortunate move on the part of the accused to say these words to a watching world, and
one of the few things he actually did
that contributed to his conviction.
The Zeist judges, considering in 2000 and 2001, referred to the 1991 interview in lieu of live testimony, which both accused declined to offer (they felt it was wiser to let the lawyers do the talking henceforth). Referring to the crucial visit, the judges mused:
It is possible to infer that this visit under a false name ... was a visit connected with the planting of the [explosive] device. Had there been any innocent explanation for this visit, obviously this inference could not be drawn. The only explanation that appeared in the evidence was contained in his interview with Mr Salinger, when he denied visiting Malta at that time and denied using the name Abdusamad or having had a passport in that name. Again, we do not accept his denial. [paragraph 88]
He was of course no longer denying his presence at the time, his representatives having surrendered to the Crown the passport with his photo and stamped 20 December, Malta. But Megrahi's, his counsel's, and his government's continued silence over this mission, presumably not bombing-related, allowed this
inference
that it
was
bombing-related to be possible (or does simple imagination do that? See comments below).
Besides pretending to genius status for rejecting a moot denial made to someone else a decade ago, the judges managed to bolster it with the other weak points to collectively sort-of-justify saying "guilty." An act of imagination, and otherwise it was down to the evidence that he
actually was
planning a bombing at the time.
And it's this class of clues, as Mr. Marquise likely knows, that needs some help. He called on the same imaginative reading of "Abdusamad" as support for the evidentiary case. But in reality there's much to suggest the oppposite - the hard evidence may have been planted and bribed into being in order to support the fabricated case against that suspicious-looking Megrahi and his false passport.