Dr. Hayes and "a Very Good Question"
10 October 2010
last update 24 Oct
Yet another problem with the science of Lockerbie, discussed for years but never resolved, is page 51 of the examination notes from
Dr. Thomas Hayes
and the anomalies surrounding it. Hayes was the chief explosives experts for RARDE (Royal Armaments Research and Development Establishment), making the often lone examination of all explosives-related evidence of the Lockerbie bombing. If Hayes vouches for it, it was in the blast. Even PK/689.
Page 51 deals with his supposed 12 May 1989 examination of the pivotal tiimer fragment, PT/35(b). But the page appears to have been inserted after the fact. As Paul Foot wrote in his seminal 2000 booklet Lockerbie: Flight From Justice:
The fragment lay in a store with quantities of other material at least until May 1989 when it was examined by Dr Thomas Hayes at RARDE. Dr Hayes saw nothing specially relevant in the fragment, and apparently did nothing about it. His own note about his examination originally appeared on page 51 of his notes. The following pages were originally numbered 51-55, but the numbers were overwritten later to 52-56. Dr Hayes was never able to explain this re-numbering. [p 11]
At trial Richard Keen, for the accused, questioned Hayes about this:
Q Now, when was that change in pagination carried out, Dr. Hayes?
A I'm sorry, I have no idea.
Q Why was it carried out, Dr. Hayes?
A I agree, it's a very good question. I'm sure there is a quite innocent explanation, which I have no idea of.
To be fair, he did then offer by way of explanation that he must have misnumbered page 52 as 51, and so on for a few pages, but corrected it later. It's one possibility, and apparently a coincidence that it occurred right after this most pivotal discovery. Perhaps the contents of page 51 were so humdrum he forgot the whole thing, turned a new leaf and numbered it 51.
There is some controversy over the policy at RARDE, where bound examination books had once been the standard. But as of Hayes' work on this case, they were using loose-leaf books. Perhaps not coincidentally, this would make it easier (possible) to insert pages out-of-order.
Dr. Hayes' examination notes were discussed in some depth at trial in 2000. The main point in questioning was to establish the unusual sequence of numbers and dates, with little or no reference to the page contents.
Page 48 is not discussed, but presumably dealt with work from 15 March, 1989, since the following page (49) starts there. What was examined isn't clear, but the next item below it is PI/991, a damaged suitcase, exam dated exactly
two months
later, 15 May, suggesting a break just that long. Using a number format, it jumps from 15/3 to 15/5, so perhaps he 5 is just a goof?
Well, the page ends there and the next page is dated 12 May. An actual two-month break just after the apparent one? (Nothing is given of page 50's contents, and we don't know what his notebook shows for the first thing(s) he looked at after vacation.) Following the incongruous page 50, the pivotal page 51 continues 12 May's work. Below is what seems to be scan of it from court productions,
posted by Edwin Bollier
at one of his Mebocom pages (new window for fuller view).
That day, the page says, a scrap of shirt collar called PI/995 is examined and yields a treasure trove of pinpoint clues. Their numbering is strange – all but one are listed under PT/35 (PT/35(a), etc...) and originally, the lump of radio manual is lettered (d), with marginal note of its (later?) designation, PT/2, far out of sequence. The control sample it was compared to, the intact manual, was first dubbed PT/1, even though PT is a prefix otherwise used for evidence found within other crime evidence, like PT/35. (PT/1 was later re-named to PR/1111 for unclear reasons, but PT/2 became official).
Note the paper bits of PT/2 are all carefully sketched, perhaps a clue to the name change (opening the way for PT/2(a), etc.) But the "green circuit board" PT/35(b) is not sketched, despite being by far the largest and most dramatic bit of electronics found anywhere in their work. "Photo" in the margin is checked, and as Rolfe reminds me in the comments, the photo of all items displayed (see below) was apparently taken just before this exam, and it shows the fragment still bunched up. But the date of that photo hasn't been proven, and the fragment was not followed up on in any other way until at least mid-September. A strange lack of recognition indeed, if this thing really was logged back on 12 May, and considering deputy Feraday's intense interest in all electronics.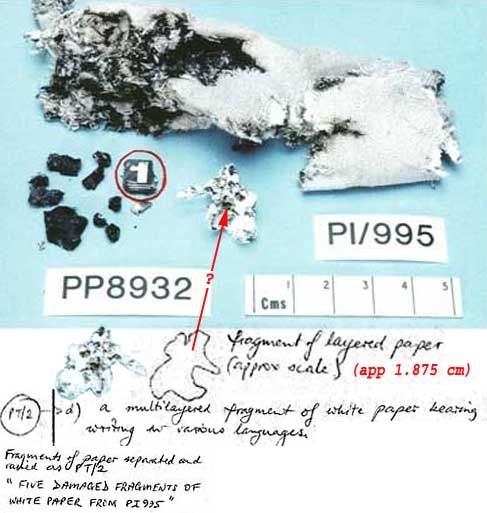 Following 51 come the scored-out pages
51
52,
52
53,
53
54,
54
55, and
55
56, all dealing with the prolific 15 May. Finally the renumbering stops and a date change occurs to 16 May from pages 57 on. Thus the sequence, using "final" page numbers, runs thus:
49: 15 March / 15 May
50: 12 May
51: 12 May
52: 15 May ...
Dr. Hayes for his part explained that he had originally left the bottom half of page 49 blank, took a two month hiatus, and resumed on fresh pages 50 and 51 on 12 May, a Friday as it turns out. On Monday the 15th, he filled in the following pages with the wrong numbers, and somewhere along the way, also filled in the bottom of page 49 with some of that day's work. He didn't recall all of this, but presumed that must be what happened, as strange and unusual as that is. Because clearly he'd never destroy old pages to make room for backdated new ones.
Looked at more suspiciously, and if we take page 49 as the original start of 15 May's work after exactly two months off, at least two things jump out. First, it would seem
there was no examination 12 May
as related on pages 50 and 51. Second, the 15th resumes only on page 52 (originally 51). Obviously implied is a
missing original page 50
of 15 May.
The new page 51, however, didn't replace its predecessor, just re-numbered it. And the raising of pages 51-55 can't avoid an effect on later pages – the new 56 bumps up against the old (or at least non-scored) page 57. Since the new 56 was once 55, that suggests further a
missing original page 56
, dealing with either 15 or 16 May.
So the appearance here is that
two pages
were inserted – 50 and 51 as it stands - and two pages were removed – the originals of 50 and 56. Was their replacement
just
to give space for the supposed work of 12 May, or did they also contain something best deleted?
---
See the comments below for further discussion.